Sara Krieger, a veteran commercial voiceover artist, says it's a common mistake to believe that having a deep, resonant, well-trained voice makes you a shoo-in for a career in voiceover. But neither does having a quirky, distinctive voice, she adds: "When someone comes to me and says, 'I've been told I have a voice for voiceovers,' I say, 'Can you read copy? You have to be able to get a point across, relate a feeling, and nail it the first time. It's being able to act on a mic.' It used to be about vocal type. Now it's about how you read." Other words and phrases used by experts to describe the craft are "conversational," "sounding as if you're talking to a friend," and "selling something without sounding as if you're selling something."
Commercial voiceover is an actor's medium today. The work is relatively fast and painless, and many actors like the anonymity it affords. Today's plethora of cable TV and online outlets has been a further boon to the business. The bad news is that the competition is stiffer than ever, thanks in large part to voiceover casting websites and electronic self-submissions. Anyone can post voice samples online and announce that he or she is available for hire—and some people do land gigs that way. At the same time, celebrities have made major inroads into commercial voiceover and are being well-compensated for their time and efforts. There's still a commercial voiceover market for journeyman actors, but fewer of them are making the kind of bucks they once did, when it was a closed world and a handful of performers took the lion's share of assignments on the three major networks.
Breaking In
One constant remains, however: To have a serious career in commercial voiceover, an actor needs representation, preferably in a major market. Carol Hanzel of Carol Hanzel Casting in New York spells it out. While anyone can submit him- or herself online, she says, "we only work with established agents." Others agree.
So how do you land that elusive voiceover agent? Jessica Felrice, a voiceover agent at Abrams Artists Agency in New York, says most of her actors came to her attention through referrals from producers or on-camera agents in her office. She often takes on actors she has seen perform in legit venues, especially if they demonstrate a "facility with comedy and improvisation," she says. "Being loose and quick serves them well in voiceovers." Beyond their craft, she is attracted to actors who are working, whether professionally or in an acting class: "I like actors who are flexing their muscles in all aspects of their craft." On occasion she'll meet with someone on the basis of a demo, but that's rare, she says.
Other agents insist they must hear a demo before representing someone, maintaining that the recorded voice is the actor's calling card and that it's distinctly different from the live voice. But there is little consensus on how polished the demo needs to be. Professional clips from actual commercials are clearly preferable, though some say that simply hearing an actor read commercial copy can be enough to determine whether the actor has voiceover talent. Jeff Danis, a voiceover agent at DPN Talent in Beverly Hills, Calif., has no problem with an actor reading five or six pieces of ad copy on a demo, as long as the reading is "real and credible," he says. "I like humor and individuality and a voice that has a distinctive quality that cuts through. If you don't have professional credits, go to a professional who does audio demos and they'll tell you what to read."
Most CDs and agents urge aspiring voiceover artists to take classes or workshops with professionals—performers who make a living doing voiceovers, voiceover agents, or casting directors—before creating a demo. Krieger, who is also a vocal coach, says it's essential that before you make a demo, you know your range and style and the types of roles you'll be cast in. Will you be selling cosmetics with a sultry voice or playing the nurturing mom or the ironic pal? "You need to identify where you fit as opposed to believing you can do anything," she says. "It's also important that you can read copy cold and take direction. Only then are you ready to do a demo."
Your demo can then be posted on your own website or on a voiceover casting site, or you can send it to agents and casting directors—who may or may not listen. Auditions take place electronically or in person. They may be laid-back or more structured, depending on who's conducting them. Terry Berland of Terry Berland Casting in Los Angeles says she takes more time auditioning actors for a voiceover job than for an on-camera job. Her first step is to explain to the actor what she wants to hear beyond the actual text. "The talent will read, and then I will make adjustments," she says. "I will give an actor three or four shots during the audition, which may take five to seven minutes. I rarely do callbacks. I like it when actors come into my office. There are times when someone can't come, so I'll send them written directions or I'll have a conversation with them on the phone. They can then send me an MP3 file. Some do it from their homes; others do it from their agent's office."
Voiceover artist Mandy Steckelberg, who lives in L.A. but has worked on both coasts, says recording in a home studio presents its own set of challenges, especially if the casting director hasn't given her instructions. "It's very easy to fall into the trap of sounding the same and then editing yourself to death," she says. "Then at the actual recording in L.A., nine times out of 10 it's me and the engineer. The client is hearing me, having been patched through. In L.A., I've worked with people I've never met. In New York, there's always a client in the room." It's also more common in New York to meet with the casting director for the initial audition, she says, while in L.A. the reverse is usually the case.
On both coasts and all points in between, you need to be organized and self-motivated, but being a self-starter is even more important in L.A. So is self-branding, Steckelberg says. You need to know your voice type and promote it. Another regional difference: In New York, most voiceover artists are actors, whereas on the West Coast a fair number may be musicians, songwriters, or stay-at-home moms. Some do nothing but voiceover work, Steckelberg says. In L.A., she notes, the voiceover artist "is often a straightforward, compassionate, intelligent storyteller."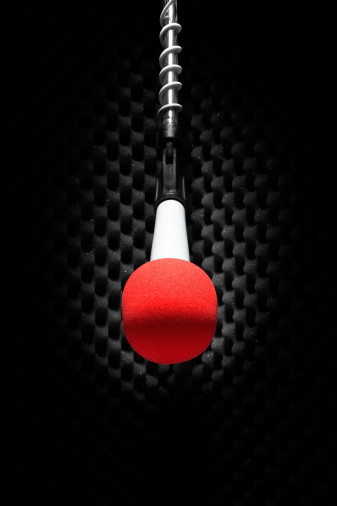 A Voiceover Tool Kit
According to Steckelberg, her comedic and musical skills have helped her throughout her voiceover career. In fact, they led to it. An agent discovered her performing at a comedy show in New York. He signed her immediately, and shortly thereafter she was working in voiceover steadily. Her natural musicality—her rhythm and timing—is what she believes caught the agent's attention.
"A good voice talent has an internal clock," explains Atlanta-based voiceover artist David de Vries. "So when the casting director says, 'I need this copy read in 28.7 seconds,' you land it. This is an innate talent and it cannot be taught." His voiceover career began when a legit agent sent him out on a commercial voiceover audition on the basis of his demo. "I was at the right place at the right time," de Vries says. "It was the early '80s and I had that cool voice which was starting to emerge in voiceovers. I booked my first audition, and it turned out to be a Clio-winning spot. After that, I was booking regularly. I was also doing industrials, live corporate events, the odd movie of the week, and stage work. The fact that I was a legitimate actor helped me get voiceover work. The voiceover casting directors were confident they had found someone who could read text."
Eric Nelson, a voiceover artist in New York, believes that his ongoing career as a legit actor helps him in voiceover. "I'm always reading sides, and the more you read out loud, the better you'll get at commercial voiceovers," he says. "You have to know how to articulate and where to emphasize punctuation, and acting has helped with that. The only time my acting background may have gotten in the way was when they were looking for a person without credits, someone who would sound 'real.' But that hasn't happened very often." A major virtue in working with an actor, adds Hanzel, is that he or she can take direction and "understands the buzzwords."
Brian Cummings, a performer based in Los Angeles who does animation and promo work in addition to commercial voiceover, contends that success in one genre boosts opportunities in the others, though the skills needed for each are not the same. The key talents required for voiceover are believability and communication ability. You have to convey the text and then add something surprising that makes the listener want to hear it again, all within time constraints, Cummings says. With animation, he explains, you're playing a character—sometimes cartoony—over a period of time, and the character has a chance to evolve. "In some ways, commercial voiceovers are infinitely harder," he says. "But I like doing it all."
The big difference between animation voiceover and commercial voiceover is that in the latter, you are playing yourself, says Lisa Fischoff, a casting director with Broadcasters in New York. "To be good at commercial voiceovers, you have to know how to pull back," she says. "It's not about being able to project or be big. The most important quality for success is being able to connect with the copy."
Loving the work is also essential. Consider Krieger. A singer who toured and made records for close to two decades, she began her voiceover career 15 years ago because she was worried about her financial future. Voiceover had always appealed to her, and she was already well-versed in the workings of a recording studio. "I got into voiceovers to make a living supporting my music," she says. "I fell in love with voiceovers and never went back to the music. I never anticipated I would be doing this full time."
Still, the voiceover performers Back Stage spoke with report an economic downturn in the business. Steckelberg admits she had more gigs years ago, when she was in New York, suggesting that part of the problem is the large number of people trying to get into the field on the West Coast. De Vries observes that at one time there was a viable market in Atlanta for commercial voiceover artists, but much of the work has dried up, in part because of the consolidation of advertising agencies under huge corporate umbrellas, "which has had the effect of centralizing accounts back in L.A., New York, and Chicago, leaving secondary markets like Atlanta, Dallas, and Minneapolis with crumbs," he says. "And technology has in some ways contributed to the centralization."
Wherever you're located and whatever stage of the game you're at, the experts say you must treat it as a business. And "there are no guarantees," Cummings points out. "The people who hire you today may or may not hire you tomorrow." Krieger agrees, calling the whole field "a crapshoot."
"Have flexibility, patience, and enjoy what you're doing," says Berland. "Keep a positive attitude. People say it's a closed field and wonder if there is a possibility of getting in. Yes, and there are lots of ways to get in. It's a tough field, so you have to have another means of income. But even when you are established, you can't rest on your laurels. You have to constantly assess how you sound and be aware of the trends."
Put simply: It's no different from any other part of the industry.
Originally published by http://www.backstage.com
Re-Published by Russian Voice Over
Contact me directly: [email protected]
Call Now 1-(800) 506-0385
for all your Russian Voice Over requests.