Funny voices, dead serious voices, entertaining voices, mean voices – diverse aspects of our exciting trade collectively referred to as the voice over industry are on display in the upcoming documentary "I Know That Voice".
Several voice actors discuss their art and their careers.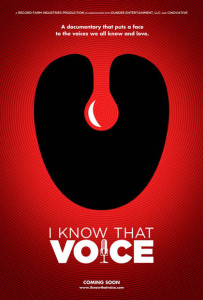 When US actor/narrator/producer John DiMaggio tunes in on everything worth knowing about the voice over business in his upcoming feature documentary, chances are that a lot of voice over goodies (as well as tons of clichés) are shared so you better listen, laugh and learn.
From the high-pitched annoyance of Tara Strong to the Don Lafontaine'ish movie trailer rumble of David Kaye, DiMaggio offers a rare look behind the scenes of the voice over industry. A must see whether you're curious to see how the voices are created for the Nickelodeon success The Fairly OddParents or how to dub the gaming characters in Gears of War. Featuring anything voice, this fine selection of voice actors, voice directors, casting voice directors, video game producers, agents, producers, engineers, mixers, creators, animators, dialogue editors, voice teachers, voice school and all those involved in the booming voice over industry, is bound to make its mark in the history of voice over documentaries.
Scheduled to air in 2013 stay tuned for more trailers.
Watch the first two trailers here:
I know that voice v.1
I know that voice v.2
Find more information here:
Published by The Russian Voice Over
WEB SOUNDCLOUD TWITTER FACEBOOK
Contact me directly: [email protected]
1-(800) 506-0385
for all your Russian Voice Over requests.